Only two hours drive from Athens is the picturesque coastal village of Galaxidi. A small port situated on a natural double harbor surrounded by mountains awaits all visitors. The locals in Galaxidi welcome the Lent period on the last weekend of the carnival with lots of celebrations. One of them is the flour-war, a local custom that revives every year, known also as "alevromoutzourema". For the locals it symbolizes the spring commencement. Even though the event is held on the clean Monday, you shouldn't let the name fool you. For the simple reason that there is nothing clean about Clean Monday in Galaxidi.
The seaside village of Galaxidi is in a day long flour-war. With handfuls of dyed flour, locals and travelers participating on a street battle. In fact this year almost 2.500 people filled hundreds of bags with baking flour, tinted with food coloring, to be used as bombs. The meeting point for the participants is the Manousakia square. The battle starts with the ringing of cow bells and then the flour flies as participants parade, fire flour bombs and try to douse each other with as much flour as possible.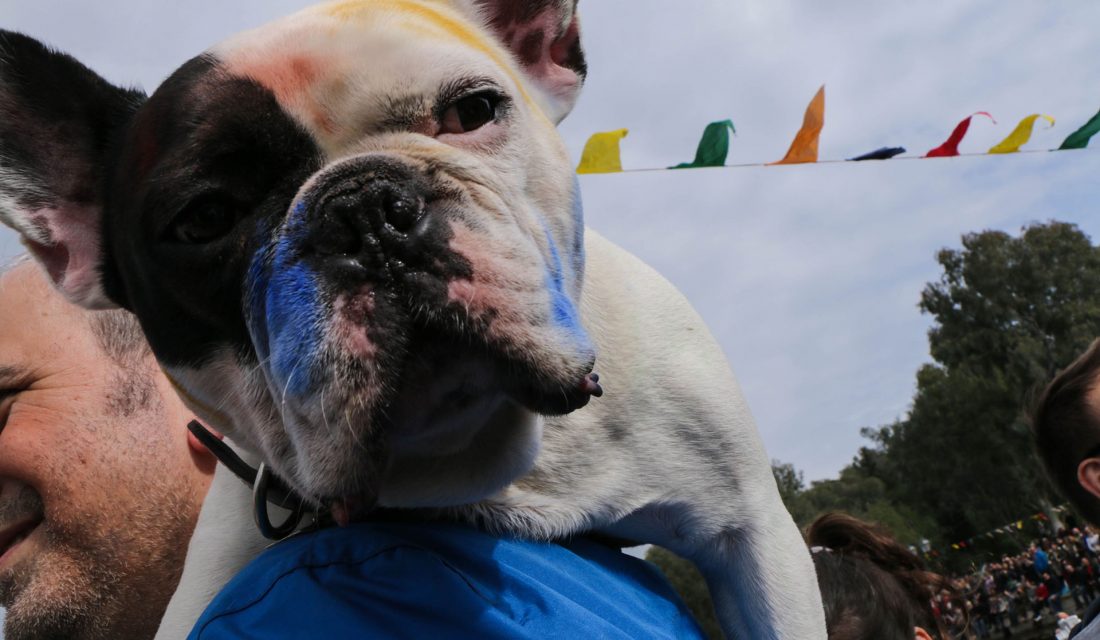 "It's very difficult to describe if you don't really experience it."
"It's very difficult to describe if you don't really experience it. You can smell the flour and the smoke. Moreover if you manage to keep your eyes open you will be able to see a beautiful colorful cloud "Jerry Diamandis says. This mind-blowing experience of the trapped colors in the narrow streets makes this event unique.
The purpose of this tradition, literally flour smudging, is to throw as much flour as you can. With this in mind, if you want to be well prepared for the flour-war, better wear a plastic suit and a pair of goggles or a face mask. Most shops distribute large quantities of flour and fum (colored cement mixed with flour). Likewise in preparation for the beautiful mess that will ensue, shopkeepers use huge plastic covers on their storefronts. In contrast, the locals just put on some old clothes. "Wearing a protective white suit is an insult", Jerry adds smiling.
At around 2:30 in the afternoon you can see the tourists, the locals and people of all ages marching to the harbor. Then they usually split into a war zone, a neutral zone for the observers and the fight begins. The participants throw each other colored flour until they essentially run out of supplies. All people are dancing with their faces painted until late at night. White, blue, green and yellow colors all over Galaxidi!
But how everything started? The custom is believed to have originated in 1801 when Galaxidi residents defied the Ottoman rulers occupying Greece. At that time they were celebrating the forbidden carnival and painting their faces with ash while dancing in the streets. Either way, it is important that the custom continues to revive for many generations and turns Galaxidi into a big hug for everybody.
Connect with a Butlair to find out more about local customs in Greece!